Three key rules of engagement
Three key rules of engagement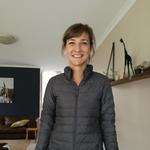 Updated by Neelke Stadler
Play by WhatsApp's API rules, and you'll enjoy creating a powerful chat service for your social-impact organisation.
If you're in the process of applying for WhatsApp Business API access via Turn.io, you're probably bursting with excitement. 😀 You'll soon be able to start designing and using your chat service.
To ensure that you're set up for success – and that you have fun while creating your service – it's essential to become familiar with what we call the WhatsApp API "rules of engagement".
WhatsApp is very particular about how organisations are allowed to use their API. They have a set of policies you need to strictly adhere to, or else your number may get blocked. For this reason, it's crucial to familiarise yourself with the detailed policies on the WhatsApp Business Policy page.
Don't be put off by WhatsApp's policies. They're there to ensure that the WhatsApp product remains a tool for valuable interactions, be it with loved ones, businesses or organisations. Also, if we have to be honest with ourselves, none of us enjoys promotional spam. Instead, we all like prompt customer service from the businesses and organisations we trust. This is what the rules of engagement aim to achieve.
Here's what you need to know for now: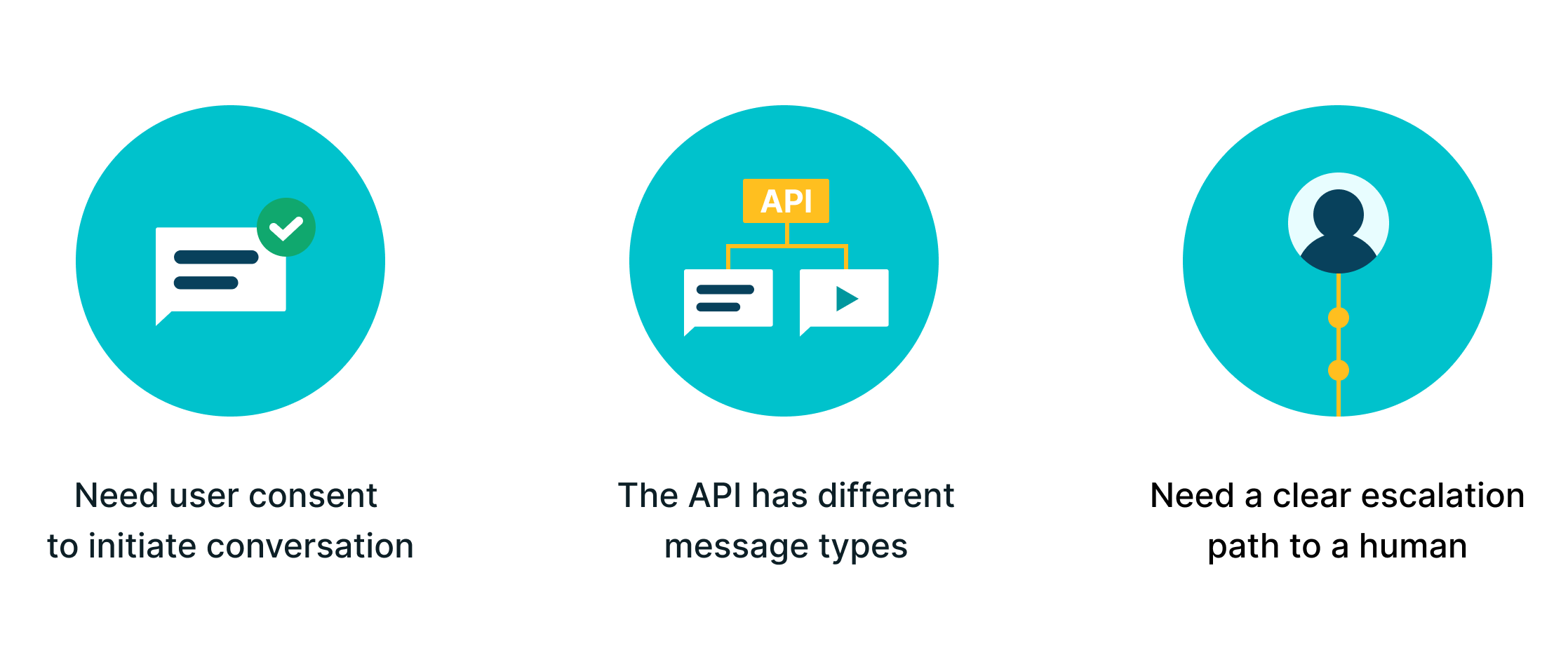 You'll need to get user consent (i.e. opt-in) to initiate conversations.
There are different message types on the API. Each of them has specific conditions for use and costs.
You can use automation, but there has to be a clear and direct path to a human. Users must be able to speak directly to a coach if required.
In summary: Let the user drive the journey!
Always think about your users first
With the API, WhatsApp specifically wants you to focus on your users' wants and needs. Here's what this means in practice:
You can only get in touch with people on the WhatsApp API if they've agreed to be contacted by you on this platform. Users must opt-in for your service.
Your chat service content should be 100% relevant to your audience. Your content should never confuse, deceive, defraud, mislead, spam or surprise your users.
You must always respect users' requests for discontinuing or opting out of your WhatsApp chat service (on or off WhatsApp).
You may not build games or support playing of games in WhatsApp. This consists of any interactive programme for one or more players that involves competition, skill and/or chance.
The golden rule: Remember that the WhatsApp API is not a push channel. The emphasis should always be on providing valuable information and support to your WhatsApp community.
Link users with support staff
If a user contacts you, you can respond with a free-from message within 24 hours. But, if you want to contact a user before they send a message, or after more than 24 hours have passed, you can only send a pre-approved message template. See our article on the dos and don'ts of message templates for more information.
Your chat service can use automation but it should include a clear and direct path to a human. Human escalation paths include handing the conversation over to a coach, sending a phone number, email or web-support form, and prompting location visits. 
Only use automated responses to share relevant information (ideally directing users to content on your chat service). This will help your team to follow up appropriately and manage multiple queries at a time.
Sometimes it may be necessary to share information via bulk messaging (for example, to ensure the immediate protection of your users). These requests will have to be sent to WhatsApp for approval.
Data collection and surveys
Data collection should never be the core reason why you're engaging with a community on WhatsApp.
Your organisation is responsible for and must secure all notices, permissions and consents to collect, use and share your users' information. This includes maintaining a published privacy policy.
Never use any data obtained through your chat service for anything other than sending follow-up support messages to users.
Never ask people to share full-length payment card numbers, financial account numbers, personal ID card numbers, or other sensitive identifiers.
Note that information that could identify a person should be well managed (for example, if someone sends you their full name and ID number in a query). Flag this query and shift the conversation to another platform (e.g. a call centre).
Remote data collection (i.e. collecting data from remote locations that are not easy to access) can only be done under particular circumstances.
Note that it is possible to ask users for feedback or other short pieces of information. This could be feedback on the information they've just received, or asking them whether they'd be interested in other services.
Never forward or share information from a user chat with another user.
If you plan to use your chat service to sell products or services, you'll have to comply with WhatsApp's Commerce Policy.
Remember: Sticking to these rules are really in your best interest.
WhatsApp will not hesitate to terminate your account if you don't adhere to their Business Terms and Policies. If you don't play by the rules, they may also prohibit your organisation from all future use of WhatsApp products.
But their restrictions are there for a reason: they want to keep the focus 100% on interactions that are valuable to your users.
Was this article helpful?