Overview of the Turn.io user interface
Overview of the Turn.io user interface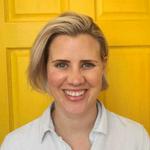 Updated by Pippa
It's time to show you what Turn.io looks like. Hope you're as excited as we are!
Turn.io makes it easy for your social-impact organisation to have personal, guided conversations with users.  
Once you've completed all the onboarding steps, you'll receive access to your Turn.io account. To log in to your account:
Visit app.turn.io.
Click on "Sign in with Google" and complete your details.

Tip:
Bookmark
app.turn.io
.
This is the URL you will always visit to use your Turn.io account.
Let's take a look at what you'll see after you've signed in: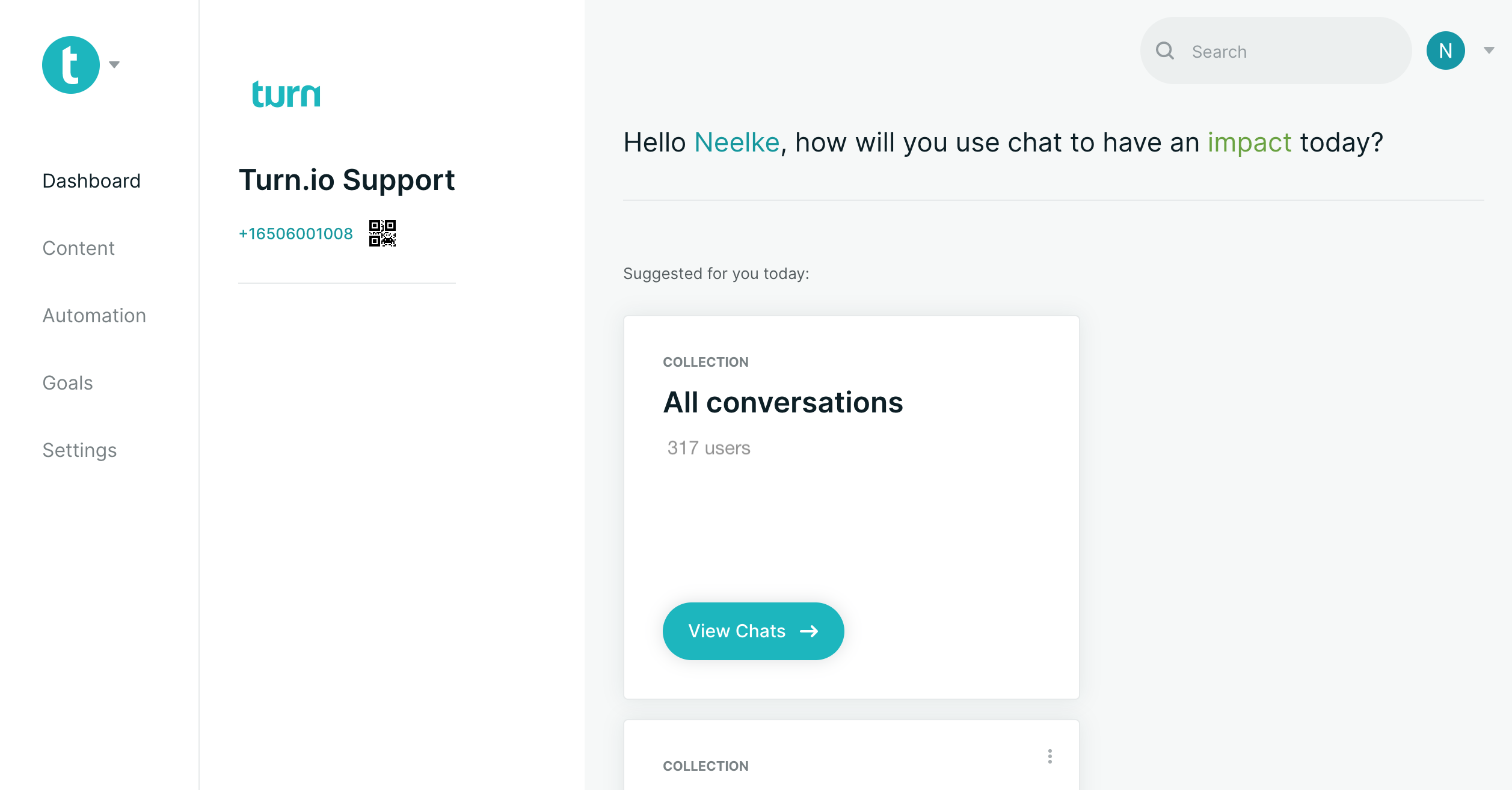 You'll be creating your new chat service by using the five tabs on the left-hand side:
1. Dashboard
This section gives you an overview of all the conversations that are being captured on your chat service. Ultimately, this is the section where you'll be spending most of your time. 
On this page, you'll see a box titled "All conversations". This is one of your first "collections" (folders or groups of user conversations). Some collections will automatically pull into your dashboard; others can be created by your team to help you prioritise and organise conversations for easy answering.
You can add and delete collections as you go. When you click on "View chats" in the "All conversations" tab, you'll be able to access all the user conversations captured on your service. On the right-hand side, you can scroll through them and order them (for example from newest to oldest).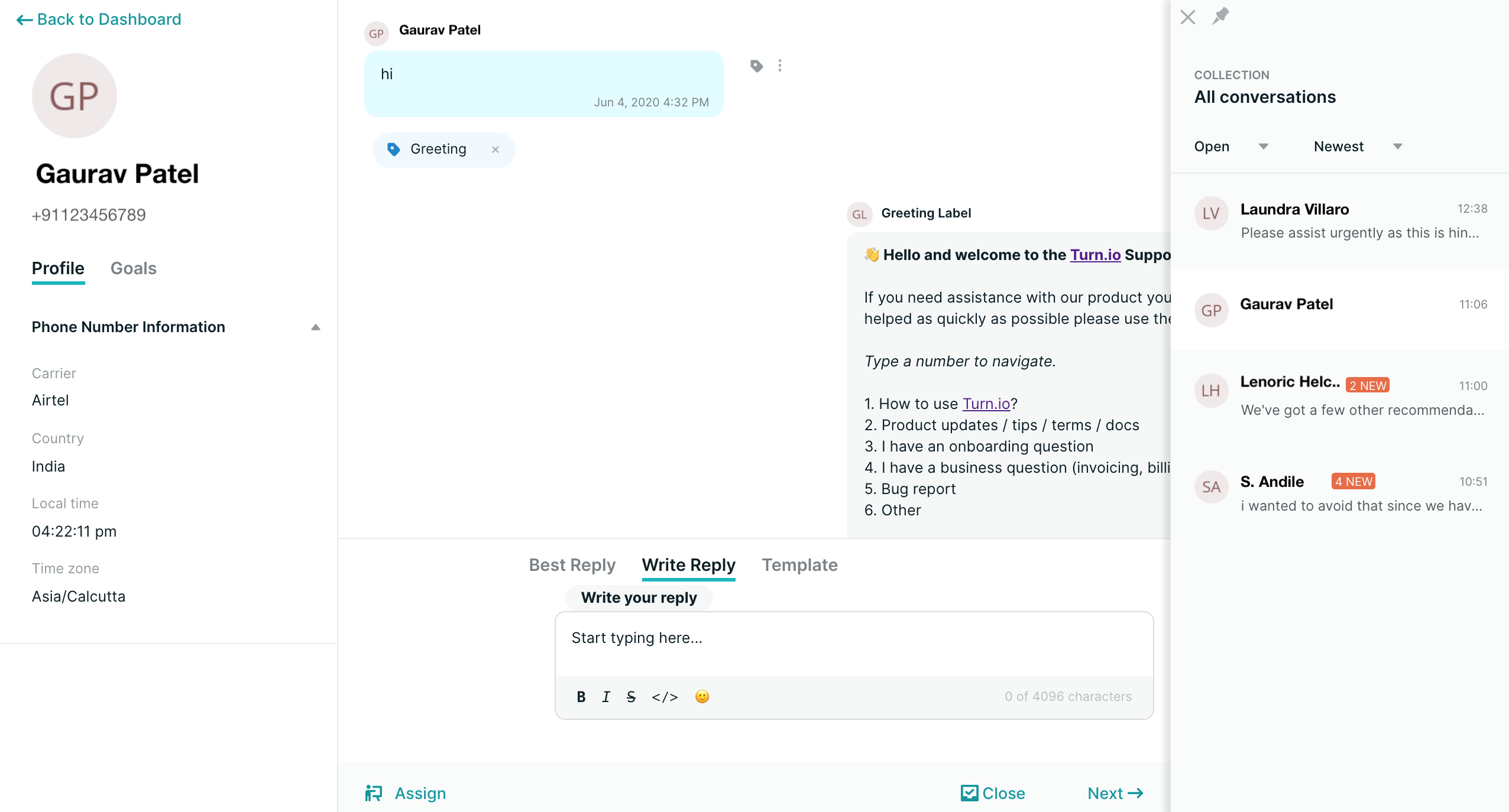 Tip: You can close X or pin 📌 the conversation list.
Towards the centre of the screen, you'll notice a text field where you can send replies to users. You can either type a message here, send pre-loaded content by clicking the magnifying glass (this allows you to search for your content) or respond with a pre-approved message template.
Between the navigation bar and the dashboard section, you'll notice your WhatsApp line's name, number, logo and clickable QR code. When users scan this code with their phones, your chat service will automatically open in WhatsApp. 
Right at the bottom, you'll notice that you can assign conversations to certain team members (see "Assign" button) and that you can select "closed" when a user query has been resolved.
PS: Between the navigation bar and the dashboard section, you'll also notice your name, number, logo and clickable QR code. When users scan this code with their phones, your chat service will automatically open in WhatsApp.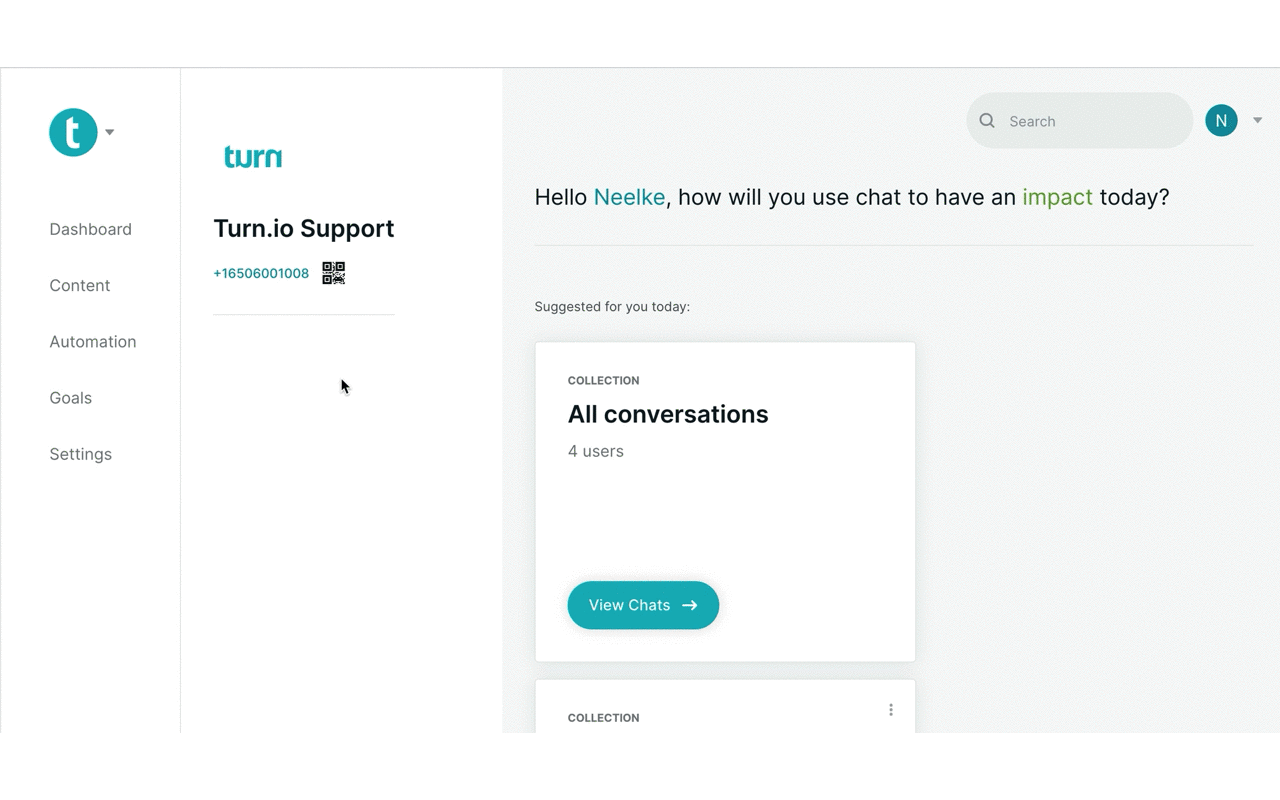 2. Content
This is where you'll add and edit all the delightful content that your users will receive via your WhatsApp chat service – either as automated messages or as replies to queries in conversations (to be found in your "Dashboard" section). 
Right at the top, you'll also notice a "Templates" tab. This is where you'll add and submit your message templates – notifications that can be sent to users more than 24 hours after their last message to you.
3. Automation
This section allows you to set up triggers to automate actions in your chat service. For example, if a user types "hello" or "hi" into the text field on your WhatsApp service, you can set up a trigger to automatically send them a welcome message.
Automation allows for consistent, timeous replies and will ultimately save your team time, as you can set up answers to frequently asked questions in advance.
4. Goals
From here, you can set up goals to track your users' progress towards certain pre-defined objectives. When a user has completed an action (e.g. he/she has visited a clinic or completed an application form) and reached one of the goals you've set for them, it can be tracked directly in the conversation you're having with them.
Note that goals can be active or archived and that they provide real-time proof of the impact you're having. 
5. Settings
This section is mainly for the technical team. It allows your team to see your WhatsApp API status and rate limits, the integrations and webhooks* on your account, the set-up of your fallback channel, and your Turn API access tokens.**
After reading through this brief overview, you should feel confident to take a closer look at each section in Turn.io and play around.  
* Webhooks allows you to instruct Turn to send automated messages or information to other apps.
** Token-based authentication ensures that each user request sent to a server is accompanied by a signed token. This helps the server to verify the request for authenticity.
Was this article helpful?