How to decide on and set up goals
How to decide on and set up goals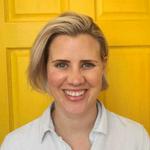 Updated by Pippa
To measure the impact your chat service is having, we've made it possible to set up and track goals from within Turn.io. Here's how.
"Plant a good seed in the right spot, and it will grow without further coaxing," writes B. J. Fogg, author of Tiny Habits: The Small Changes That Change Everything.
At Turn.io, we really do believe that encouraging small behavioural changes can lead to great results. Keeping tabs on your community members' tiny behaviours, how they're progressing towards certain goals, and nudging them along the way turns your chat service into a valuable tool that has the potential to change lives.
Turn.io allows you to track your users' progress towards specific predefined goals in real-time and from within the conversations you're having with them. Let's explore how to set up goals and behaviours, and how to use them when chatting.
Setting up goals and behaviours
Step 1: Log in to your Turn.io account and navigate to the "Goals" tab on the left-hand side.
Step 2: Click on the "Add goal" button top right.

Step 3: Give your goal a title in the pop-up box. Think about the high-level outcome you would like your users to reach (e.g. a healthy pregnancy) and be as descriptive as possible. This should be your overarching programme goal. Click the "Create goal" button.

Step 4: Your goal will now be displayed on the "Active" landing page. Click on "View more" to start adding behaviours that will help your users to reach the high-level goal you've set for them.
Step 5: You'll now see a section at the top of the page where we show you how many of your users have started or completed the behaviour. The "intention behaviour gap" refers to the number of users who intended to behave in a certain way, but never completed the action. Now click on "Add behaviour".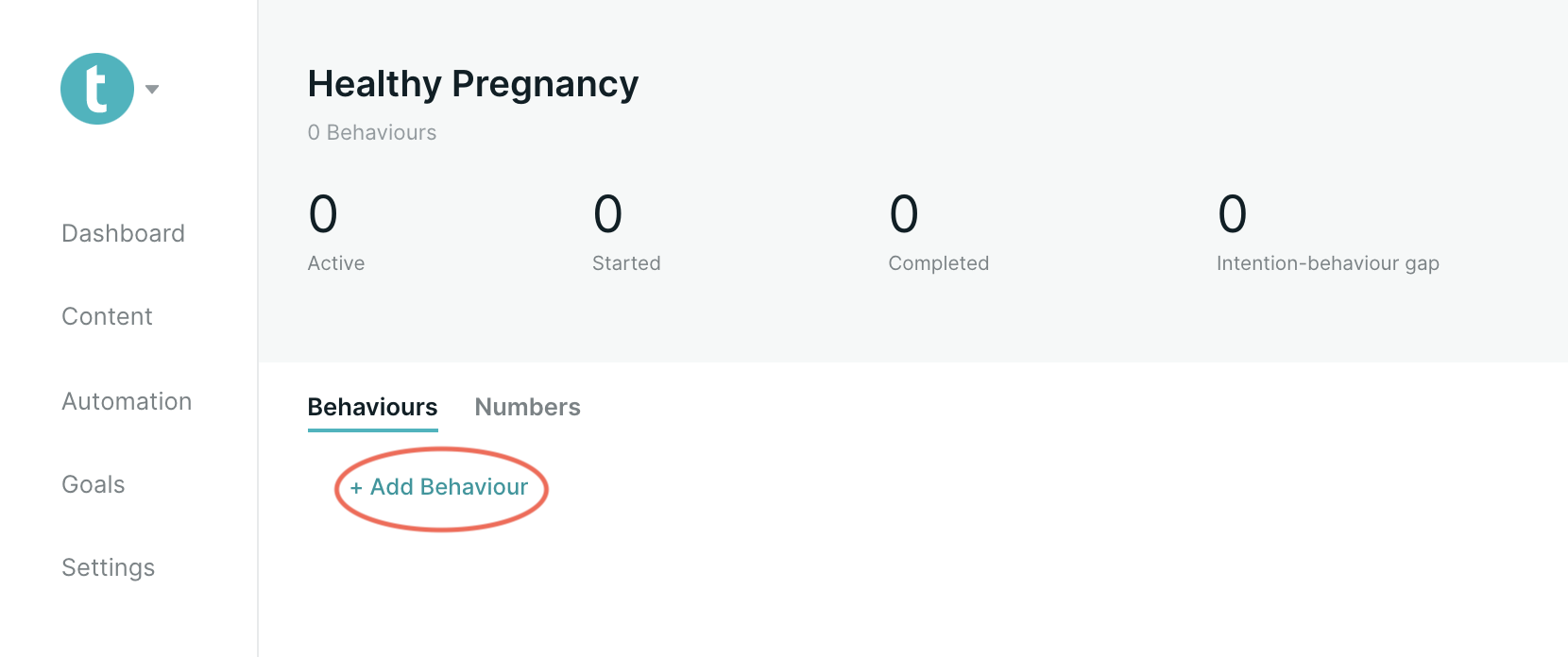 Step 6: Give your behaviour a title (remember to be descriptive) and select the "behaviour type" in the pop-up box that appears. You can choose from the following:
Perform an action (e.g. collect pregnancy supplements)
Share a contact (e.g. share the clinic contact details with your partner)
Share a document (e.g. send a sonar scan)
Read content (e.g. read all the FAQs in the "Healthy pregnancy nutrition" section)
Visit a location (e.g. send evidence of a visit to the hospital or clinic for a routine antenatal test)
Remember that these behaviours should be trackable using WhatsApp. Click on "Add behaviour".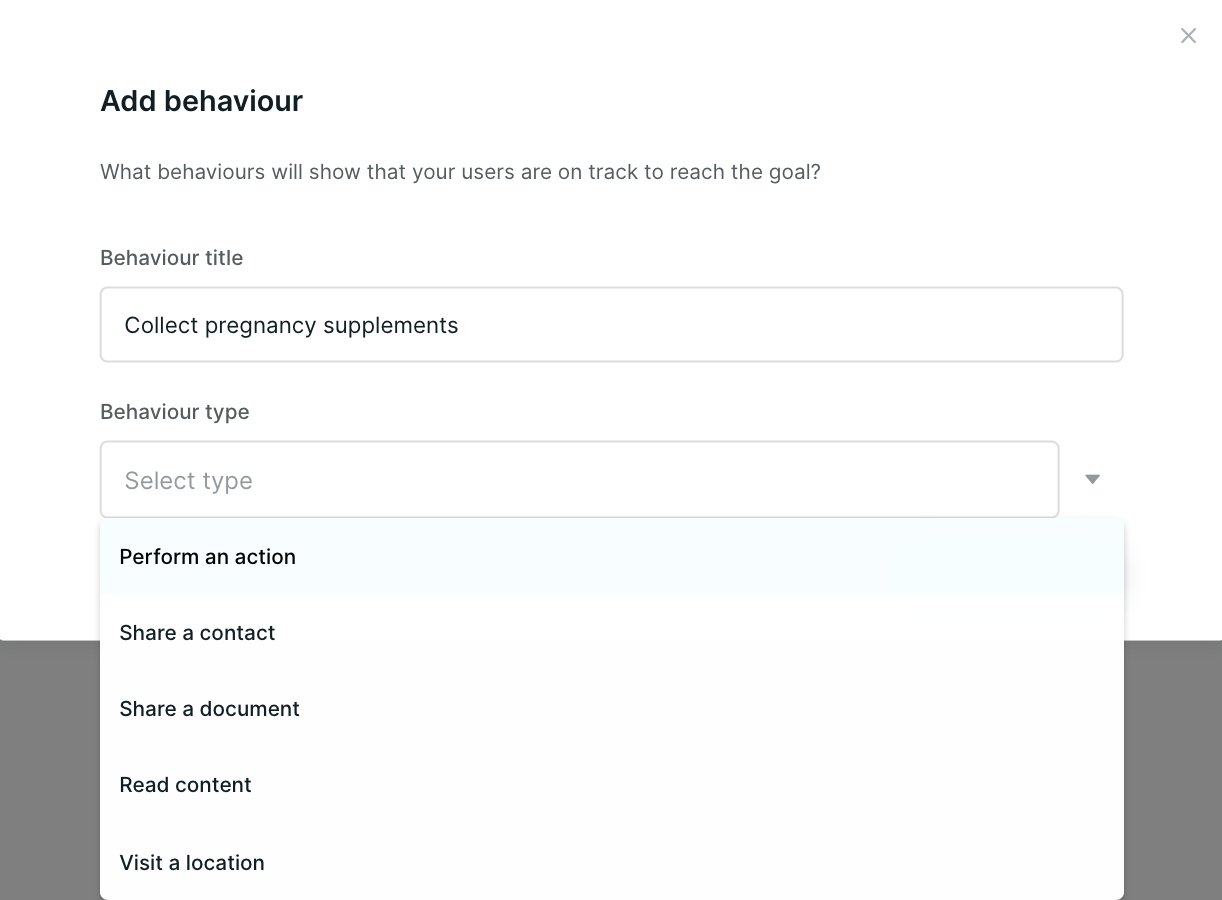 Step 7: Behaviours will now start pulling in on the page dedicated to the primary goal you've set. By clicking "Edit" on the right-hand side, you can edit behaviours or delete them. By clicking the downward arrow, you can order behaviours so that they form logical steps that will help your users to reach the overall goal. At the bottom of the page, you can click "Add behaviour" and continue with the process, adding as many behaviours as you'd like.

Step 8: Once you've added all your behaviours, you'll have to activate them. Click on any of your behaviour's "View more" button. Now click on the "Numbers" tab at the top. Use the toggle to make your behaviour active (the colour will change from grey to turquoise).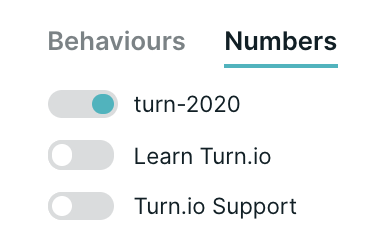 Note: Don't skip step 8 else you will not see your goal in the conversation view.
Step 9: Initially, you may only set up a few behaviours. But, as your service grows, you might want to add more behaviours or change them. Note that, when you click the small menu top right on any active behaviour (three little dots), you can archive it. This means that it will no longer be active.
Goals and behaviours are a fantastic way to track the personal, guided journeys of your community members. You can now guide users in real-time so that they can reach the overarching programme goal you've set for them.
Was this article helpful?